Description
 Artist Andrew Goralski was inspired by Eli Manning's incredible Super Bowl Run. Against all odds, Manning led his team through one of the most exciting post seasons in NFL history. In his painting the helmets on the field represent the six teams that Eli and the Giants beat on their way to a Super Bowl victory. In a chaotic flow, subtle hues flood the background representing opposing team colors. The frenzied activity serves as a reminder of the difficult task an NFL quarterback faces each time the ball is hiked. Through the entire run Eli maintained his calm presence.
 Edition Specifications
110 Goralski Giclée Edition (Printed on heavy weight fine art paper will be produced) as well as 10 artist proofs
Title: Eli Manning "A Run to Remember"
Image Size: Approximately 19″x28″
All prints are signed and numbered by sports artist Andrew Goralski
Includes a certificate of authenticity
Each print will include an NFL Hologram
This Eli Manning painting is part of a series.
 
This painting is part of a series of collector prints commemorating the Super Bowl run.   Goralski's artwork depicting Manning is similar in design to  Aaron Rodgers.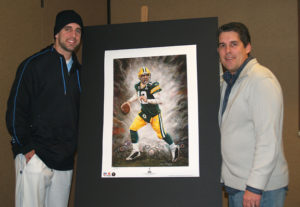 f you have any questions, please contact us.
Please Call: 414-750-0791 or 414-750-0746