"A Run to Remember"
One of the Greatest Runs in Green Bay Packers History!
Only 112 prints were created!
This Edition is SOLD OUT. Always check back for Goralski's latest work.
Personally Autographed by Aaron Rodgers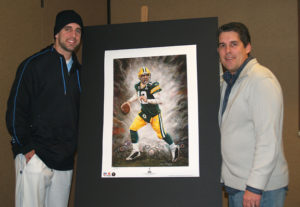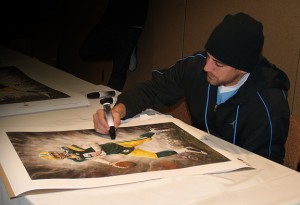 Artist notes:
I was inspired by Aaron's incredible Super Bowl Run. Against
all odds, Aaron Rodgers led his team through one of the most exciting post
seasons in NFL history. In my painting the helmets on the field represent the
six teams that Aaron and the Packers beat in a sudden death format on their way
to a Super Bowl victory.
In a chaotic flow, subtle hues flood the background representing opposing team colors. The frenzied activity serves as a reminder of the difficult task an NFL quarterback faces each time the ball is hiked. Through the entire run Rodgers maintained a calm presence. ~Andrew Goralski
This product is officially licensed and approved by the NFL and the NFL Players Association. – the words MVP and the score of each victory are hidden in the painting.
Officially Licensed Product of the NFL, and the NFL Players Association
Edition Specifications
112 Goralski Giclée Edition (Printed on heavy weight fine art paper)
Title: "A Run to Remember"
Image Size: Approximately 19″x28″
Signed and numbered by Andrew Goralski
Personally Autographed by Aaron Rodgers
Includes a certificate of authenticity and photo of Aaron Rodgers autograph session.
NFL Hologram included
These prints are framed with clear acrylic plexiglass to insure safety in shipping.